Gartner survey of 192 CFOs and finance executives on April 6, 2020, showed the majority of CFOs surveyed plan to slow-pay their vendors to conserve cash during the lockdown and COVID-19 crisis. The CFO respondents from small businesses (with revenue under $500 million) are also seeking flexibility in their rental payments, 84% of CFOs are expecting some waiver or adjustments to their rent obligations in April and beyond, at least during lockdown period.
Due to COVID-19, businesses are shut-down, are partially active, now the burden is on CFOs, how they are going to manage cash flow when there is limited cash inflow with liabilities and commitments. CFOs are practicing different-different proactive cash management models in the wake of financial disturbance.
The situation is very critical, more than a third of respondents reported that customer receipt payments would be delayed or go unpaid, they are not making any commitment.
57% of large businesses with access to credit facilities are actively drawing down upon them. At the same time, small business CFOs are often taking more aggressive measures, like- delaying their monthly rent and payments to their vendors.
Due to lockdown, companies do not have many options, either shut down or ask employees to work remotely, and the supply chains come under strain. Large and small business CFOs face the probability of postponed or unpaid customer bills (see Figure 1).
Figure 1: CFOs Report 36% of Customers Payments Will Be Late or Not Paid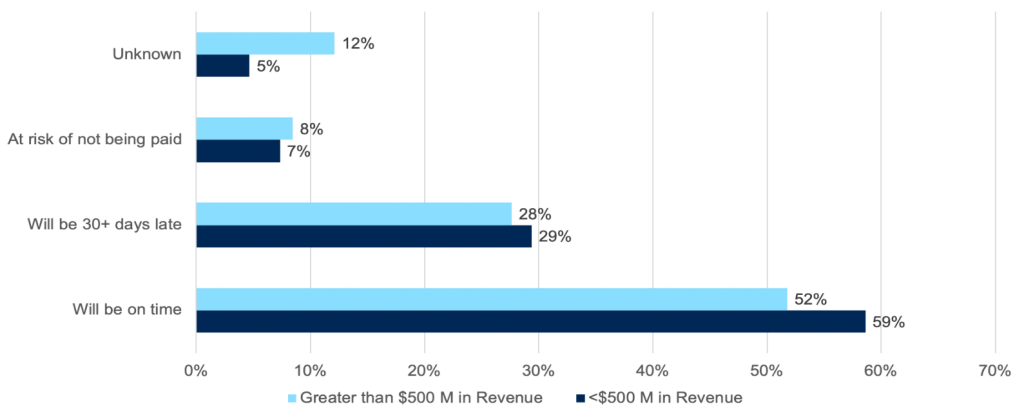 While numbers of CFOs of all the companies surveyed – prepared to draw down credit limits wherever possible, slow-pay vendors, and try to obtain government stimulus funding, the survey shows some distinct variations between how large and small business CFOs are working with their financial challenges.
Large business CFOs were 9x more likely to consider asset sales compared to the smaller business.
Large business CFOs were more actively drawing on credit limits (57%) compared to smaller businesses (46%).
Small business CFOs were nearly 2x more likely to be delaying rent for April and May 2020 compared to large
businesses, with 84% of the former showing they will discuss to delay or only part payment rent payments in the coming months.
Also Read: Cybersecurity While Working From Home Amid Coronavirus Outbreak
Also Read: Contingency Plans Will Minimize Business Impacts of Event Disruptions Due to Coronavirus: Gartner
Also Read: Data Protection and Compliance While Working From Home