Artificial Intelligence (AI) continue exploring new opportunities, transforming industries. To find more opportunities, Google developed AI research lab in Bangalore India. As of now Google India AI Lab's team will aim to advance computer science and AI research, to find more solutions with help of AI for healthcare, agriculture and education sectors.
AI in healthcare sector with help of machine learning advances hospitals and doctors, Many Technology companies working towards better utilization of AI in healthcare sector.
Bangalore Google research lab will be led by Infosys foundation chair professor at IIIT Bangalore Manish Gupta. Bangalore AI Lab will support Google's global researchers network with report information. Google also looking to connect with more India's scientific research communities, institutions. Click here to know more.
Speaking on the launch of AI research lab, Caesar Sengupta, Google VP, Next Billion Users and Payments, said, "We want to adapt our products for Indians instead of asking Indians to adapt to Google Technology".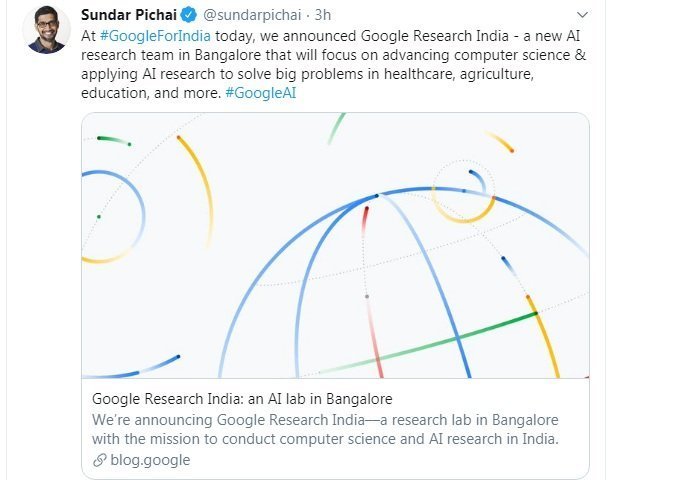 Google acknowledged tremendous Google Pay response from India, Currently Google Pay has more than 67 million active users in India generating transactions worth USD 110 billion across the merchants, Google team ready to expand Google pay after seeing Indian responses.
Google to more explore Indian market with existing platform tokenisation, with this payments will be available to debit and credit card holders through a system of 'tokenized' cards to pay for things using a digital token on the phone rather than actual card number.
With this you can initiate payment to merchants who accept Bharat QR code and those that have NFC by just tapping the card. Google said that it will make payments much more secure apart from making online payment much more seamless by doing away with the need to enter card details. It will be rolled out over the next few weeks for Visa Cards in partnerships with banks such as HDFC Bank, Axis Bank, SBI Cards among others. The features will be rolled out with MasterCard and Rupay Cards in the coming months.
Starting Google Research India is an important step for us, and for me personally, too. As someone who grew up in India, studied at the Indian Institute of Science in Bangalore, and learned so much from the community there, I'm grateful that we now have the opportunity to help advance research and play a part in building the AI community in India.