Smart digital technologies like wearable sensors, home monitoring devices, and healthcare mobile apps have improved the overall quality of life of people around the world. Modern technology AI is redefining healthcare industry, It has made revolutionary impact on over all healthcare industry. In fact, according to Healthcare Weekly, AI is one of the top technology every healthcare executive should learn about in 2019.
Current Challenges
Currently, there is a shortage of 5 million physicians, nurses and other healthcare workers and the gap will widen in the future. A WHO report claims that the world will be short of 12.9 million health-care workers by 2030.

According to a recent study conducted Indians visit doctor on an average of four times a year. Long wait to schedule an appointment for discourages patients.
Doctors and Physicians face administrative issues, need to do repetitive work which results in wasting a lot of time.


Early Diagnosis at Right Time is Important which is delayed in taking an appointment, consulting and waiting for the result.
9 Ways AI is Revolutionizing Healthcare Sector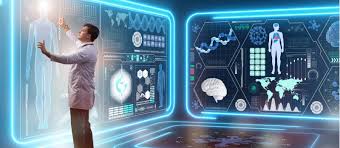 1. Many algorithms and platforms have been tested resulting to answer 99% cases.
2. Artificial intelligence helps in identifying the correct treatment. As algorithms don't lose their edge over time.
3. Using AI assistants can clear services that are right now taking much time and can free up doctors' time to attend to more critical cases. AI suggest when to see a doctor based on user symptoms.
4. An AI-powered mobile app where chatbot is used, can help patients easily without wasting much time in appointments and other formalities. Once the users provide details of symptoms AI provide with easy-to-understand information about their medical conditions. The platform has a vast network of information and uses natural language to provide a rich personalized experience.
5. Researchers at Stanford University have developed an algorithm that can detect cancer which can be available in an app in the near future. Other advancements like AI can help in finding a solution for blindness, diagnose sleep disorders and much more
6. Google-owned AI company, DeepMind is using machine learning to fight blindness and prevent 98 percent of most severe visual loss in cooperation with NHS.
7. AI will shorten the process of drug development providing lifesaving treatments for complex medical conditions like Parkinson's disease and Alzheimer's which has no cure currently.
8. AI can help many Pharma companies in aiding patients with the right medicine for their illness.
9. Drug development company based in San Francisco; Verge Genomics makes use of data solutions and artificial intelligence to find cures for various diseases. They have raised more than $32 million from investor and have a positive outlook over the future of AI in pharma
Why adoption of AI (artificial intelligence) has become a necessity for the healthcare sector?
1. Time is a vital factor – The doctor can't attend so many patients. By having a medical decision support system, the stumbling block that arises can be eliminated. AI speeds up the entire process which also works in favor of patients who do not have to spend a long time waiting for results and starting their treatment.
2. AI is best precise and accurate over traditional analytics. The accuracy of artificial intelligence is its greatest strength. AI acquires more information which is stored in its databases for future use and eliminate cases of misdiagnosis which can happen due to human error.
3. Algorithms can never get old and excel in doing something that is repetitive.
4. Treatment and prevention of rare and dangerous disease can be done by early diagnosis with the help of AI algorithms as millions of samples can be ingested in short order.
5. AI can reduce other administrative headaches resolving other logistics challenges.
6. A good healthcare system not only boosts the economy but also contribute to the welfare of society.
7. AI can help the healthcare industry to collect a lot of data about patients which are valuable for medical practitioners and researchers.
8. AI is helping healthcare organizations in better and faster decisions.
9. With the use of AI, blockchain privacy of the patient is ensured.
Technology is developing every second and Artificial Intelligence is taking over the world by storm. By integrating AI with healthcare apps healthcare sector are able to overcome present and future challenges and improve the quality and availability of healthcare services.
From diagnosis to treatment, recovery, and follow-up care; AI is completely redesigning the healthcare industry. AI in healthcare is a gold-mine. Anyone working in healthcare should adopt this technology. With the advancement in technology, one thing pop's up in your head – will it affect Jobs? Will it replace humans? The answer is definitely; No!!!
Humans are irreplaceable when it comes to caring and emotion. No algorithm can empathize and function as a doctor or a nurse. They will not replace but enhance human efforts and improve the quality and availability of health services.