The fast-paced digital environment has been playing a major role in transforming every company into a technology company, and start-ups are no exception. Today's innovation-driven businesses are largely dependent on technology for manufacturing, delivering, and promoting their digitally-enabled business offerings competently. In startups CTOs (chief technology officer) Playing vital role, taking startups to the next level.
With technological developments happening in multiple departments of an organization, 21st-century businesses are no longer reliant on third-party integrations as they hire an internal IT team to streamline their business processes and gain a competitive advantage.
Considering the current state of affairs, we can infer that businesses that disregard innovative advancements are likely to lose their identity in pretty short space of time; this is why corporate houses as well as startups prefer hiring a CTO (Chief Technology Officer) to drive the technological success of their business effectively.
Finding the right CTO can take a startup to the next level of success
A lot of startup businesses such as Airbnb, OYO, Uber, SnapChat, Spotify, etc., are already making headlines every day; thanks to the CTOs who have been operating these startups so productively.
CTO forms a Crucial Part in Business Growth Strategies for Startups
Before we go any further, let's briefly elucidate the role of a CTO throughout a startup lifecycle. Since modern businesses are technology-driven, every company needs a CTO to stay ahead of the pack. A CTO is the top-level technology executive position within an organization. However, the role of a CTO goes beyond technical skills or managing technical teams.
A perfect CTO is a combination of strategic and technical skills. He or she should be able to explicate strategic roadmaps to the CEO as well as other stakeholders of the company. At the same time, competent CTOs take all possible measures to foster a healthy and rewarding work culture along with a cheerful and productive team.
What is the role of CTOs throughout the startup lifecycle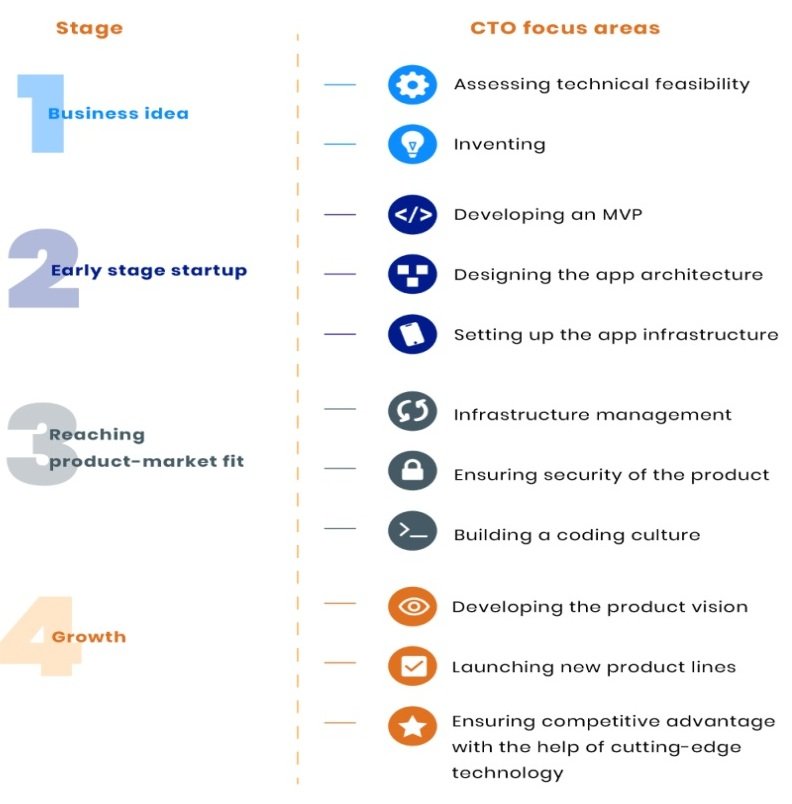 The above chart demonstrates the intricate roles and diverse functions of CTOs in a startup company. The role of a CTO demands huge responsibilities, especially in a startup.
Startup CTOs should be prepared to get their hands dirty during the early stages of a startup business. They should be eager to take up different roles and responsibilities for filling the gaps in the team. Nevertheless, as the startup business grows, the role of the CTOs often shifts from technology to management.
Chalks out Future Roadmap: The CTO analyses the startup's goals and then chalks out practical steps to achieve those goals. In simple words, a startup CTO's key objective is to translate business goals into projects. From finance management, team management, and user experience to development, operations, and employee retention, the CTOs need to take charge of several departments to shine a light on a startup's future.
A Multitasker: CTOs in a startup should have the ability to understand the business and make pragmatic choices. As the CTO of a startup consisting of a small team of about 5-10 members, the CTO will probably be the only tech expert in the company. He/she leads the engineering team and collaborate with vendors while focusing on the end product, customer satisfaction, and boosting ROI. Besides having their finger on the technological pulse, a CTO should also be aware of the emerging technology and business trends. In such a setting, a CTO's role in a startup becomes equal or as important as that of a CEO.
It is not easy to define CTOs' role as the job title demands different skill sets in different companies. Purple Quarter has been helping a lot of fledgling startups and established corporate houses in finding the right CTOs who are not only technical wizards but also thought leaders, storytellers, customer champions, and visionaries.