Technology has been driving a major transformation in global workplaces and one of the segments seeing rapid change is wireless presentation and collaboration. The new decade is expected to see many remote, freelance and contractual workers contributing to the industry through virtual meetings and conferences. At Barco we believe that 2020 will be the year where the concept of "Bring Your Own Meeting" takes root.
Employees are now likely to host meetings from their own personal conferencing devices and solutions and Barco is poised to cater to this demand. Our recently announced collaboration solution, the Barco ClickShare Conference, brings wireless conferencing to meeting spaces, combining powerful remote communication with easy-to-use wireless collaboration.
Stronger business relations and improved turnaround for corporates are fostered by next-generation collaborative technology. Wireless presentation and collaboration helps limit wastage of time and human resources and makes the workplace more productive. Meetings nowadays include visual solutions like large built-in displays, screen sharing and videos and these are seen evolving in the next decade.
According to a recent report on "Future of Meetings" by Barco ClickShare, in collaboration with Savanta, the number of remote workers has seen a 115% increase in the last ten years. The report adds that 87% of Indian respondents surveyed expect the proportion of meetings with only remote attendees to increase in the next three years. Technology, therefore, plays a key role in meetings now as most of these meetings are now virtual.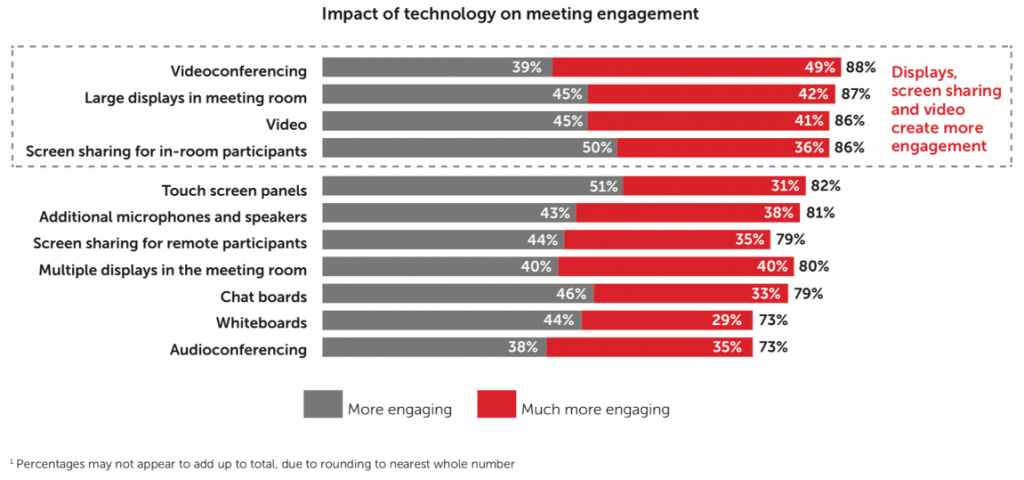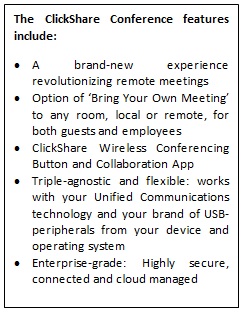 Barco's solution allows users to start meetings from their own device, using their preferred conference tool. It enables consumers to automatically connect wirelessly to room cameras, microphones and soundbars for a more immersive meeting. ClickShare Conference is a secure, connected and cloud-managed solution which enables conferencing and collaboration in 7 seconds. The ClickShare Conference works seamlessly with all devices, Unified Communication technologies and AV peripheral brands.
Nowadays, companies are focused on enabling bright outcomes for their consumers.
They make all the possible efforts to bring the best and brightest minds together to cater to consumer requirements, regardless of the location. In such scenarios, it is imperative that wireless presentation and collaboration techniques provide a life-like effect for real-time interaction. Technology has ensured that meetings today are more productive than they were five years ago, and with disruptive innovations coming forth, this trend is set to continue in the years ahead. Barco's study states that meeting attendees are now confident about turning to digital solutions during interactions and strongly prefer having access to technology in meetings.
The report further states that almost all the participants look forward to seeing voice recognition in meetings within the next two years. Employees are also expecting video filters, hand-gesture control, AR, VR and bots to play a major role in meetings within the next three years. Such innovations are likely to enhance wireless presentation and employee engagement while enabling more efficient meeting management.
Enterprises will be better equipped to address the various dimensions of an effective digital strategy if they permit employees to choose their own conferencing option while also carrying the device they are most comfortable with. Such measures will ensure an increasingly diverse workplace where employees across segments collaborate efficiently and contribute optimally and that is Barco's vision for the wireless presentation segment.