Survey conducted by IndiaLends reveals over 76% of working women make their own financial decisions. However, 59% of self-employed women rely more often on their spouses for financial guidance compared to 48% of salaried women. The survey were conducted on the occasion of International Women's Day on March 8.
The survey — which was carried out among 8800 working women in the 25 – 45 age group in both metro and non-metro cities — helped gauge their personal and financial as well as health and leisure goals.
An impressive 88% in both segments contribute to household income, though self-employed women enjoy a higher share of income.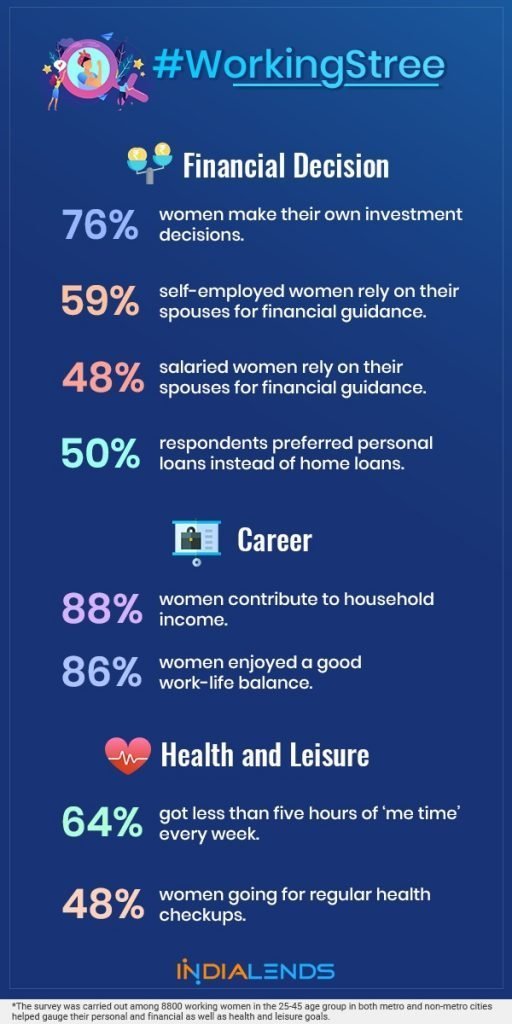 In other findings, 50% of respondents preferred personal loans instead of home loans / loans against property. About 46% of salaried women found it easier to obtain a personal loan compared to 32% of self-employed, though the demand for business loans was higher among the latter. Almost all the respondents were aware of their credit scores.
Read More:10 Most Influential Women Entrepreneurs in India
In the area of health and leisure, 86% of women said they enjoyed a good work-life balance. However, 64% of the respondents also admitted that they got less than five hours of 'me time' every week. Health was not a top priority for a majority of the women with only 48% going for regular health checkups. When it came to spending, 67% of the participants spent mostly on household items while 22% spent on personal care products.
Speaking with IndiaLends Founder and CEO Gaurav Chopra, "The #WorkingStree survey of working women offers a keen insight into the relationship between women and money, in particular their financial independence, knowledge of investment and spending habits. The survey gives us a broad understanding of how increasing gender equality and empowerment is giving women the confidence to take charge of their lives, both personally and professionally. The findings will enable IndiaLends to offer tailor-made offerings to salaried and self-employed women, as part of our ongoing efforts to create a supportive environment that will give women greater freedom to make their own financial choices."