Microsoft India supports NITI Aayog in MoveHack, a global mobility hackathon inviting solutions and ideas to address challenges faced by India in mobility and transportation. As cloud partner for the hackathon, Microsoft will offer Azure cloud credits of up to USD 25,000 to winners who build B2B solutions, in addition to USD 200 worth of Azure credits to every participant. According to NITI Aayog, the hackathon, which was launched on 1st August 2018, has received more than 35,000 registrations so far from over 25 countries.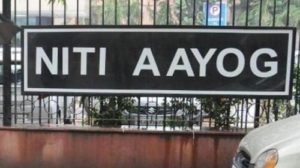 Speaking on this, Ms. Anna Roy, Adviser, NITI Aayog, said "MoveHack is a unique opportunity for the best minds from across the globe to tackle challenges in mobility and transportation that India offers. We have tied up with Smart Cities, Central and State Ministries to implement the best solutions from this hackathon, in addition to opening up our ecosystem for commercialisation of these products / prototypes. MoveHack is a one of its kind challenge to solve for India, and as an extension, solve for the world. We appreciate the partnership with Microsoft"
Commenting on the partnership, Mr. Keshav Dhakad, Group Head & Assistant General Counsel, Corporate, External & Legal Affairs (CELA), Microsoft India, said,"It is our privilege to be part of MoveHack. The entire country is going through a disruptive phase of digital transformation, with AI being integral to India's economic and societal progress. Through our partnership with NITI Aayog, we collectively aim to enable the resolution of most pressing social challenges via large scale deployment of cloud & AI led innovations. Our support to MoveHack is part of this collaboration and we believe that solutions incubated through this program will contribute to the nation's transformation in a meaningful way."
NITI Aayog's hackathon is a global mobility hackathon which invites innovative, dynamic and scalable solutions improve to mobility and transportation in India. Open to participants of all nationalities, it is divided into two categories: Just Code It and Just Solve It. While the former is focused at solutions based on innovations in technology/product/software and data analysis, the latter is for innovative business ideas or sustainable solutions to transform mobility infrastructure through technology. Awards for the hackathon include recognizing the top 10 winners with a total prize of more than INR 2 crore. In addition, what sets this hackathon apart is the unique opportunity it provides for end-to-end integration of solutions in smart cities, States and Central Ministries through commercial implementation. Problem themes include multimodal commuter mobility in cities, multimodal freight handling and transportation, road safety and future of mobility, among others.