A virus is a type of malware prepared to replicate itself and spread to other devices, including phones and systems. Once a virus infects your phone, it can cause various issues, such as unusual behavior, random popups, phone heating issue, slowing down the phone performance, deleting or corrupting application files, stealing personal information, or even rendering the device inoperable. To remove a virus from your phone, first, you need to identify it manually or with the help of antivirus and malware removal tools.
We use phones for everything, social media login credentials, phone contacts, banking login credentials, and personal photos. Our phones store a lot of data. Android and iPhone phones operate on different operating systems and have different built-in security. But both can get viruses. Below are the methods to check if your phone has been infected with a virus.
Check for any unusual behavior: If your phone is running slow, crashing frequently, or behaving unexpectedly, it may be infected with a virus.
Check for new or suspicious apps: If you see apps on your phone that you did not install or any apps that you do not recognize, they may be malware or viruses.
Check for popups or unwanted ads: Some viruses and malware will cause popups or unwanted ads to appear on your phone, even when you are not using it.
Run a scan: Use a reputable anti-virus app to scan your phone for malware or viruses.
Check battery usage: If your phone's battery is draining faster than usual, it could be because a virus is running in the background.
Check your phone's storage: If your phone's storage is being used up unexpectedly, it may be because a virus is taking up space.
If the above symptoms match your phone's conditions. Then you carefully need to follow the below steps to remove the virus from your phone. Sometimes virus comes in as a package with other applications when you download.
Here below are four steps to remove a virus from your phone.
Step 1. Closely look into the applications and phone's recent history to check if there are any unknown apps installed or phone has taken any action or change in the settings automatically. Sometimes, the virus automatically changes its name and icon; see the below image. Remove unknown and suspicious apps, then restart and check the phone's behaviors. If not fixed, then follow step 2.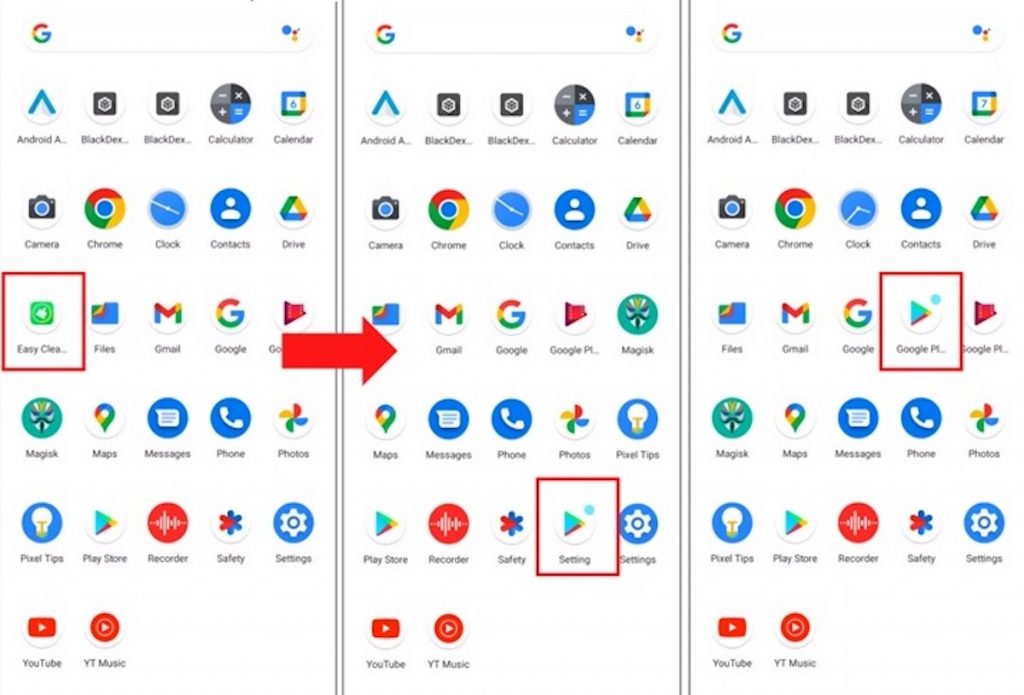 Step 2. Use a reputable antivirus app to run a full scan of your phone, this will detect and remove any known viruses from your phone.
Step 3. If your phone problem is still not fixed, use a malware removal tool. These tools are specifically designed for mobile devices and can help find and remove malware, including viruses.
Step 4. If the virus is too hard to remove and your device still faces issues, to remove the virus from your phone, you need to take an expert's help or hard reset your device.
Cybersecurity experts have banned many malicious apps.
Always keep your phone's operating system and apps up to date. This will help prevent future infections. Also, be cautious when downloading apps; only download from official app stores like Google Play or Apple Store, and read reviews and permissions before installing.
Before downloading apps from the store, check the developer's name first and review the reviews.
It is also important to regularly back up your important files and documents so that you can restore them if they are deleted or corrupted by a virus.
If your phone is rooted or jailbroken, it may be more vulnerable to malware and viruses.
Everything is online, your phone stores lots of important data, and everyone should follow basic cybersecurity standarad to avoid security threats.
Also Read: Hackers have stolen three crore passengers data from Indian Railways