Advancement of cybercriminals and their new attacking methods is like a ringing alarm for every profit and non profit making organizations. Measuring and following cybersecurity guidelines for banking industry in very important because It carries confidential and impotent customer's financial data like card details, online login credentials, account details etc, any mis-happening will not only damage bank financially but a reputation as well which matters most.
Banking industry spends a huge budget on cybersecurity system and to maintain its IT infrastructure, but cybercriminals find new attacking ways, see  the example of Cosmos Bank Pune India cyberattack, where INR 94 crore (USD 13.2 million) were looted. What happened there, cybercriminals breached Bank's ATM switch server and steal Visa and Rupay card owners confidential detail, On the basis of stolen account owner's card details, cybercriminals carried out 12000 fraudulent transactions across 128 countries. The attack was so aggressive that Cosmos Bank had to close its ATM operations and suspend online banking facilities for the time.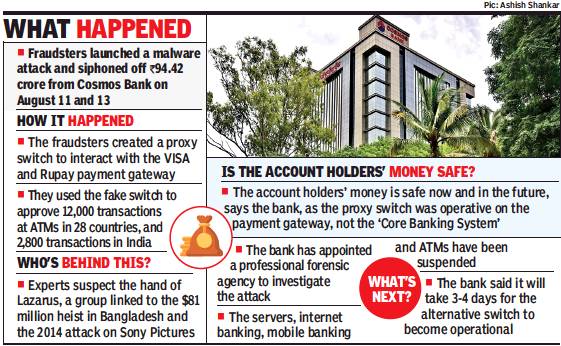 After the attack, Cosmos Bank, said that its main banking software receives debit card payment requests via a "switching system" but it was bypassed in the attack. During the malware attack, a proxy switch was created and all the fraudulent payment approvals were passed by the proxy switching system,"
Despite of cybersecurity challenges, digital transformation and adaptation of new technologies powering banking industry helps to serve their customers greater experience with advance one-touch user facilities, this is customers demand as well. Embedding new technology and applications required additional Security measures and to follow security guidelines.
Why banks and financial institutions are the main target of cybercriminals? Rakesh Kharwal, MD, Cyberbit India said, "Because of the enormous reserve of cash and consumer data, banking industry is the top target for cybersecurity criminals. The repercussions of a data breach on the sector can be very severe including the threat of financial losses, regulatory consequences, and reputational damage. These factors have spurred technology leaders from the banking industry to innovate and accelerate in the cybersecurity field. But the challenges are not easy at all, the banking sector is adopting new technologies at a very fast rate to generate incrementing revenues.
Banks need to make their IT infrastructure robust as they are the most vulnerable to cyber-attacks. Banking industry is the most targeted sector and nearly 22 percent of the cybersecurity attacks which took place in the country last year were on the banking industry. On top of it, these attacks are becoming complex day by day. To address these challenges, technology leaders need military-grade cybersecurity solutions to detect the most advanced attacks as well as there is a need a strong team of skilled cybersecurity professionals who have hands on skills to counter such attacks. "
Indian banking industry must be ready to combat the risk and challenges arising from Cybersecurity perspective. Banks also strengthen their security tech module and software applications.
RBI (Reserve Bank of India) working on measures to enhance Cybersecurity standards, it has issued a Cybersecurity framework to combat cybersecurity challenges and threats.   
Banking industry must evolve cybersecurity policies and adopt most advanced security system with trained manpower.