The traditional PC market has trended toward stabilization since 2017 and even flirted with solid growth in 2Q18. Results for the third quarter of 2018 (PC Rankings Q3 2018) shows that shipments of traditional PCs (desktop, notebook, and workstation) totaled nearly 67.4 million units, marking a decline of 0.9% in year-on-year terms, according to the International Data Corporation (IDC) Worldwide Quarterly Personal Computing Device Tracker. Unlike 2Q18, which grew, the 3Q18 results nonetheless outperformed the forecast which called for a decline of 3.0% due to several factors.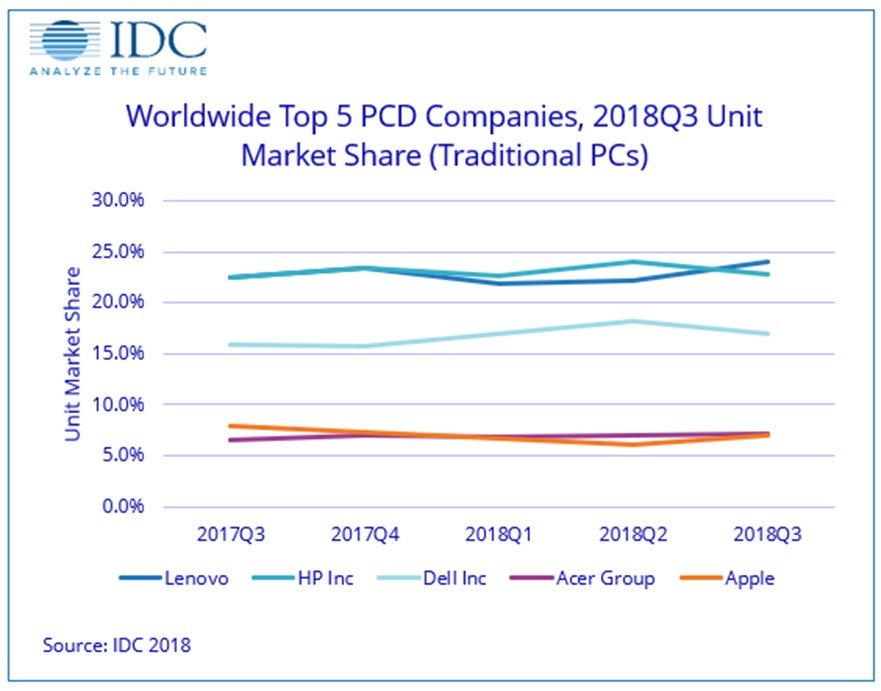 While demand from mature regions remained key to the market, many emerging markets had to contend with unfavorable currency headwinds and other politico-economic factors that cramped demand. In addition, heading into PC Rankings Q3 2018 there were some concerns about processor shortages. Despite these concerns, most of the top OEMs were able to fulfill a sizable portion of their demand and outperform the market.
All in all, the quarter appears to have been driven by pockets of strong demand as well as a focus on increasing inventory ahead of further supply issues and expected price hikes. From a geographic perspective, all regions exceeded forecast, though Latin America and Asia/Pacific saw year-on-year declines.
"PC Rankings Q3 2018 came in better than expected," said Jay Chou, research manager with IDC's P ersona l C omputing Device Tracker. "But the outlook remains uncertain as we head into the holiday season, when volume will be boosted by many consumer-oriented promotions in entry-level SKUs. AMD supply could help with processor demand somewhat, but it will also take time for OEMs to spec in more models."
"Despite looming concerns around CPU shortages, the PC market in the U.S. turned in a good quarter backed by strong results in the notebook segment," said Neha Mahajan, senior research analyst, US Devices & Displays. "Healthy business PC volume, steady Chromebook shipments to U.S. K-12, and a growing gaming consumer base have been the key reasons for the optimism around the U.S. PC markets."
Regional Highlights
USA – The U.S. PC market had yet another growth quarter with a total of 17.2 million units shipped. The boost in PC volume was a result of growing demand for notebook PCs in the enterprise segment and increasing popularity of gaming systems that supported the consumer segment.
Europe, the Middle East and Africa – The traditional PC market recorded flattish results, with ongoing mobility demand leading to a slightly stronger notebook performance compared to desktops. Despite higher demand from the commercial space, component shortages slightly dampened the overall growth.
Asia/Pacific (excluding Japan) (APeJ) – The traditional PC market in APeJ posted a single-digit decline but results were above expectations. Vendors and channel partners increased shipments in PC Rankings Q3 2018 to hedge against expected price increases and CPU shortages. India saw a significant sequential increase in sell-in due to preparations for the festive Diwali season. In China, ultraslim demand fueled consumer and SMB shipments while the government segment benefited from Windows 10 renewals.
Japan – Strong commercial activity likely helped beat expectation for PC Rankings Q3 2018. Two factors – replacement of PCs that were bought at the time of Windows end of service and migration to Windows 10 – have been accelerating in the commercial space and are expected to carry into 2019
Company Highlights
Lenovo continued the second quarter of its joint venture with Fujitsu. The company saw a marked improvement in its North American business in the wake of a revamped channel strategy and more stable management. The addition of Fujitsu volume helped to push the vendor to the top spot with 24% of the global market share.
HP Inc. grew a modest 0.3% year on year but still reached its tenth consecutive quarter of year-on-year growth and slightly outgrew its market share from a year ago. It faced a tough quarter in the U.S. as well as Latin America.
Dell Inc. tied with Lenovo in terms of year-on-year growth at 5.8% and further expanded its market share versus a year ago. A strong showing in desktop volume overall and a great EMEA quarter were the driving forces behind its results.
Acer climbed to 4th place with strong performances in education and gaming. The company has continued to focus on building out a comprehensive Chrome OS portfolio and its gaming notebooks have also garnered significant uptake.
Apple finished the quarter in 5th place, declined over 11%, and was the only top 5 company to underperform the overall market.
Top Companies, Worldwide Traditional PC Shipments, Market Share, and Year-Over-Year Growth, Third Quarter 2018 (Preliminary results, shipments are in thousands of units)
Company
3Q18 Shipments
3Q18 Market Share
3Q17 Shipments
3Q17 Market Share
3Q18/3Q17 Growth
1. Lenovo*
16,152
24.0%
15,273
22.5%
5.8%
2. HP
15,359
22.8%
15,308
22.5%
0.3%
3. Dell Inc
11,466
17.0%
10,842
16.0%
5.8%
4. Acer Group
4,874
7.2%
4,490
6.6%
8.5%
5. Apple
4,762
7.1%
5,387
7.9%
-11.6%
Others
14,775
21.9%
16,671
24.5%
-11.4%
Total
67,387
100.0%
67,971
100.0%
-0.9%
Lenovo (excluding Fujitsu volume in 3Q17)**
16,152
24.0%
14,491
21.3%
11.5%
Source: IDC Quarterly Personal Computing Device Tracker, October 10, 2018
Table Notes:
*     Due to the Joint Venture between Lenovo and Fujitsu, data for Lenovo in the top line includes Fujitsu volume for both PC Rankings Q3 2018 (16.1M) and 3Q17 (15.3M).
**     For year-on-year comparison, an extra line has been added below the table to show what Lenovo's growth would have looked like excluding Fujitsu volume in 3Q17.
Some IDC estimates prior to financial earnings reports. Data for all companies are reported for calendar periods.
Shipments include shipments to distribution channels or end users. OEM sales are counted under the company/brand under which they are sold.
Traditional PCs include Desktops, Notebooks, and Workstations and do not include Tablets or x86 Servers. Detachable Tablets and Slate Tablets are part of the Personal Computing Device Tracker but are not addressed in this press release.
You may would like to read: Cloud Data Protection, 15 Best Practices You Need to Follow