Cyber security is a major concern for businesses of all sizes, as cyber attacks can result in significant financial losses, reputational damage, and the loss of sensitive information. The frequency and sophistication of cyber attacks have increased in recent years as more businesses and individuals rely on technology and the internet to conduct their operations and transactions. This has made it easier for cybercriminals to target various organizations and steal sensitive information, disrupt operations, and cause financial losses.
According to Check Point research, Worldwide cyber attacks have increased by 38%.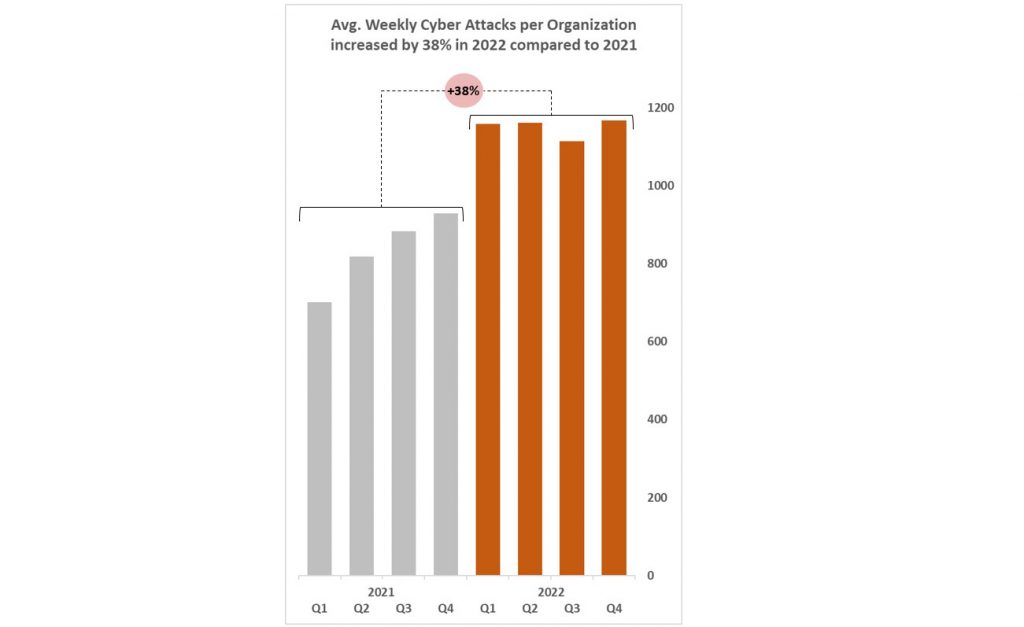 "Hackers are widening their aim to target business collaboration tools such as Slack, Teams, OneDrive and Google Drive with phishing exploits. These make for a rich source of sensitive data given that most organizations' employees continue to work remotely," said Omer Dembinsky, Data Group Manager at Check Point Software:
The rise in cyber attacks highlights cyber security's importance in safeguarding businesses' vital data and IT infrastructure. Therefore, it is essential to be aware of the arising cyber risks and to execute appropriate security measures to protect against cyber attacks.
According to a PWC survey, 77% say cybercriminal activity is the biggest organizational threat, 62% highlight insider threat as a challenge. 
How to fight rising sophisticated cyber threats
Cyber security is a critical concern for businesses of all sizes, requiring a proactive approach to mitigate and manage the risks. So it is necessary to have a comprehensive security strategy that includes a combination of technologies, policies, and procedures.
Employee Training and Awareness: Provide regular training and awareness programs to educate employees on safe online practices and recognizing and reporting suspicious activity.
Use strong passwords and multifactor authentication: Strong passwords and multifactor authentication methods can help to prevent unauthorized access to systems and data.
Network monitoring and intrusion detection to help identify and respond to cyber attacks promptly.
Implement a robust incident response plan: This should include procedures for identifying, responding to, and recovering from a cyber attack.
Keep software up-to-date: Regularly install software updates and patches to address known vulnerabilities.
Regularly back up data: Regularly back up data to minimize the impact of a successful attack and to enable quick recovery.
Advanced threat intelligence: This technology uses machine learning, artificial intelligence, and other advanced techniques to detect and prevent advanced persistent threats (APTs) and other sophisticated cyber attacks.
Cloud Security: Cloud Security solutions provide security for cloud-based applications and infrastructure and include services such as identity and access management, data encryption and security, and security information and event management.
It is crucial to keep in mind that cyber threats are constantly evolving, so it is necessary to have a proactive approach to security and to keep up to date with the latest security trends and best practices.
Also Read: Top Technology Trends to Watch in 2023